I'm back with a blog post about how YOU can get rid of items you no longer need and get extra bills in your pocket. I will only be mentioning sites or applications which I've had experience selling on. Included in each description will be my personal star rating out of 5 and some tips & tricks. Here we go!
1. Poshmark: ⭐⭐⭐⭐⭐
iOS & Android: Use code JPGYO for free credit if you want to buy something #justputtingitoutthere #notspons
I have been using this site/app for almost a full year now, and have made over $100! Sales are pretty quick, and the buyer pays $6 for shipping. Poshmark does have fees though, which are deducted from your selling price. Direct deposit is speedy (within 2-3 days), which is a plus! Overall, this is a great platform and I definitely recommend it. Some items that sell fast: Victoria's Secret PINK, lululemon athletica, Brandy Melville, Nike, adidas, high-end makeup
2. Mercari: ⭐⭐⭐⭐
iOS & Android: Use code
JBPXCE
for free credit if you want to buy something #justputtingitoutthere #againnotspons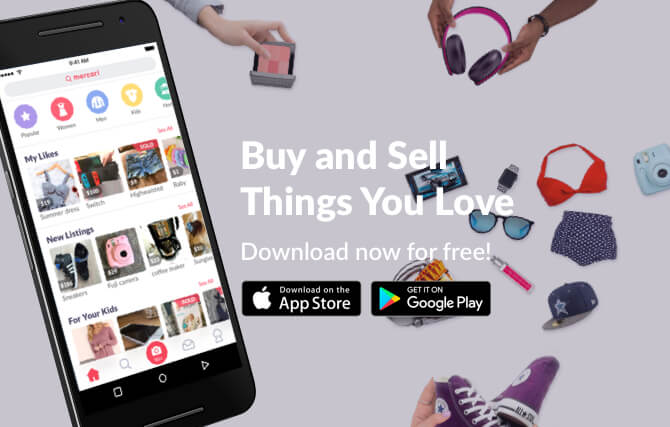 I've sold quite a few items on here, considering that I haven't been an active seller for a while and just restarted my page. The only reason I took off a star was that the direct deposit takes longer, I believe a week or so. Also, the buyer might not give you a rating right away after receiving their item (a rating is necessary before money is able to be redeemed). Overall, it's a nice app to sell stuff on!
3. Depop: ⭐⭐⭐⭐⭐
I've sold some items and done swaps as well. Be aware of scammers when agreeing to swap though, as I have been scammed twice. By selling on Depop, you can choose the option of Instant Payment so that funds can be deposited to your PayPal account directly. You can also choose between meet up in person or shipping! If you're into purchasing, you can do so with a credit or debit card or PayPal. If something isn't available anymore, it's easy-peasy to mark something as sold (can be done on Poshmark too).
4. Instagram: ⭐⭐⭐
⭐
Basically just make a boutique account on Instagram and list anything that you're selling! There's been quite a lot lately. I started two years ago, and made some extra cash. You can choose to ship or meet up, and payments can be CC (concealed cash), SquareCash, Venmo, PayPal, Money Order, you name it! Be aware of scammers, as there are many on this platform, and add lots of hashtags such as #forsale #buymystuff #shopmycloset #igshop to catch people's attention! You can make a bid sale as well. Another tip is to make a starting post about your rules just so no one can try to call out on you :)
5. Storenvy: ⭐⭐⭐⭐
I've sold a couple of items with on this site, although business is slow. Connect with Stripe or PayPal and start listing! The process is simple, although the picture uploader is a bit slow. Once you get past the crooks and nannies of it, it'll be a piece of cake!